First Name
Using paper plates for a name puzzle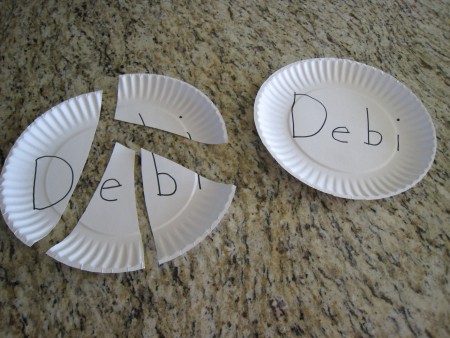 Instructions
You will need two paper plates
On the first plate write child's name using uppercase print for first letter and lower case print for remaining letters. Repeat name on second plate.
Cut one plate into 3 to 6 jigsaw type pieces. Can draw lines for puzzle on back of plate for child to use as a guide
Let child put cut plate pieces together to spell his name using uncut paper plate as a guide
Simplify
Let an adult cut the paper plate into jigsaw pieces. Child should place cut pieces on top of first paper plate to match with his name.
Extend
If child doesn't need second name plate as a guide, cut that plate into jigsaw pieces also. Use with spelling words for older child.
Materials
2 white paper plates
marker
scissor
Curriculum Plan Resources
Skills Focus
Shape - Triangle
Color - Red, Yellow, Blue
Number - Four, 4
Alphabet Letters - D, M
Senses - Taste
Character Trait - Love
Target Words - Day, Later, Night, Now
Monthly Proverb
Arabic-Every day of your life is a page of your history
Did You Know?
"Investing in high quality pre-kindergarten can make every family in America safer from crime and violence. Law enforcement leaders know that to win the war on crime, we need to be as willing to guarantee our kids space in a pre-kindergarten program as we are to guarantee a criminal a prison cell," said Sanford Newman, president of Fight Crime
Monthly Materials List
Click Here to view the list!
Fingerplay / Poems / Songs
The Itsy Bitsy Spider
(Activity 21 Month 4)
The itsy bitsy spider climbed up the waterspout
Down came the rain and washed the spider out
Out came the sun and dried up all the rain
And the itsy bitsy spider climbed up the spout again.
Do You Love Me? to "Brother John" tune
(Activity 26 Month 4)
Do you love me? Do you love me?
Yes I do. Yes I do.
Give me hugs and kisses. Give me hugs and kisses.
I love you. (kiss kiss sound) I love you. (kiss kiss sound)