Letters J and I
Using bodies to make letters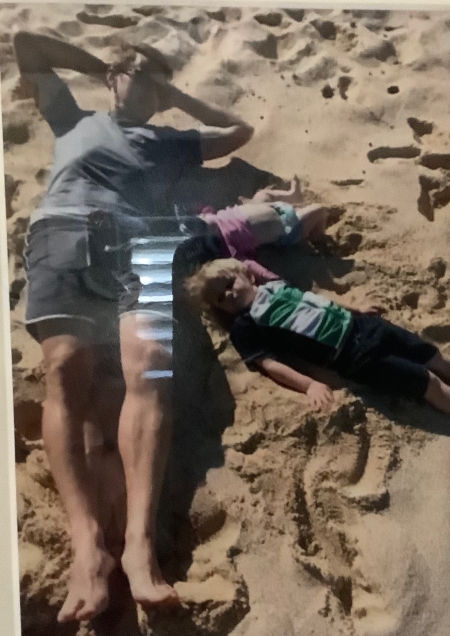 Instructions
Using three or more family members/friends, make the letter J with your bodies on the floor
Take a picture of the people "J"
Repeat with making the letter I with bodies on the floor
Take a picture of the people "I"
When making the letters and looking at the pictures, reinforce the straight across line at the top for both letters but a curved bottom for "J" and a straight bottom for "I"
Simplify
Using play people to make the letters allows a child to visually see the letter easier. See the picture at the top of the page using play people to make the letter I
Extend
Make it a family affair and try making all the letters of the alphabet during a family gathering. Be sure and have someone take a picture of each letter to see how everyone did and to use for future activities. See our family letter K at the top of the page.
QUESTIONS FOR CHILD
What is your favorite family activity and why?
Can you give me an example of being creative?
Materials
three or more family members, classmates or friends; play people
camera
Curriculum Plan Resources
Skills Focus
Shape - Review
Color - Black
Number - Seven, 7
Alphabet Letters - J, I
Sense - Smell
Character Trait - Courage
Target Words - Long, Little, Short, Small
Monthly Proverb
Chinese - If you get up one more time than you fall, you will make it through
Did You Know?
"Before children enter elementary school, they must develop many linguistic and cognitive skills that will make later academic learning possible. By the age of five, however, children differ markedly in their success in reaching these developmental goals." Entwisle & Alexander, 1993
Monthly Materials List
Click Here to view the list!
Fingerplay / Poems / Songs
Jack and Jill
(Activity 19 Month 9)
Jack and Jill went up the hill to fetch a pail of water.
Jack fell down and broke his crown and Jill came tumbling after.