B & F
Practicing letter name and sound of F while using color blue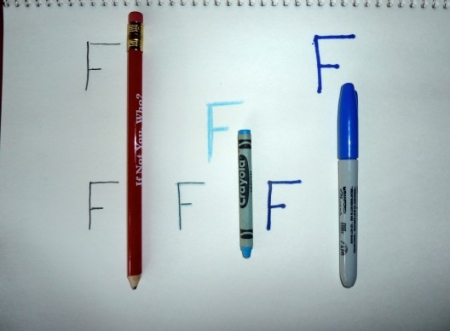 Instructions
Teach child letter tracing
Write the letter F in the air with your finger
Write the letter F with pencil on a piece of paper
Child traces with finger saying letter name and sound
Next, use a blue crayon and trace over letter F saying letter name and sound
Finally, use a blue marker to trace over F again saying letter name and sound
Repeat this 2 or 3 times making new letter F's
Simplify
Have child place hand on adult's hand while tracing letter "F" with finger, blue crayon, and blue marker
Extend
Set out a variety of colored crayons and markers and ask the child to make "F" in different colors. Encourage the child to choose a red, purple, green, etc. crayon and marker to make an "F"
QUESTIONS FOR CHILD
Can you think of an animal name that begins with the sound of "F"?
Can you tell me something funny that happened to you today?
Materials
paper
pencil
blue crayon
blue marker
Curriculum Plan Resources
Skills Focus
Shape - Circle
Color - Blue
Number - Two, 2
Alphabet Letters - B, F
Senses - Hearing
Character Trait - Joyfulness
Target Words - Big, Bigger, Happy, Small
Monthly Proverb
Unknown "Every day may not be good, but there's something good in every day."
Did You Know?
"A 3-year-old toddler's brain is twice as active as an adult's brain."- Sean Brotherson, NDSU
Monthly Materials List
Click Here to view the list!
Fingerplay / Poems / Songs
Touch Your Nose
(Activity 25 Month 2)
Touch your nose, touch your chin, That's the way this game begins.
Touch your eyes, Touch your knees; Now pretend you're going to sneeze.
Touch your hair, Touch one ear; Touch your two red lips right here.
Touch your elbows where they bend,
That's the way this touch game ends.