Edible Bracelet
Teaching color patterns with cereal and finger dexterity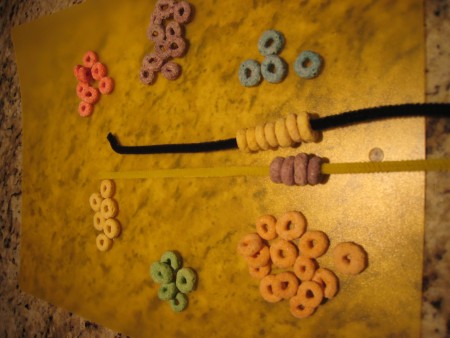 Instructions
You will need a long pipe cleaner and round fruit flavored colored cereal (Fruit Loops, Cheerios, etc.)
Encourage child to string the cereal onto the pipe cleaner
Together count 4 purple cereal pieces and add to pipe cleaner
Together count 8 yellow cereal pieces and add to pipe cleaner
They can make up a pattern - blue, purple, green, orange and repeat until pipe cleaner is full
Wear pipe cleaner bracelet on wrist and child can have a snack anytime
Simplify
If manipulating the pipe cleaner is difficult, place one of the ends of the pipe cleaner into a ball of play dough or into the bottom of a styrofoam cup turned upside down.
Extend
Make a pattern of cereal pieces on a separate pipe cleaner and see if child can duplicate the pattern.
Materials
pipe cleaner
round fruit flavored (colored) cereal with hole
Curriculum Plan Resources
Skills Focus
Shape - Circle
Color - Blue
Number - Two, 2
Alphabet Letters - B, F
Senses - Hearing
Character Trait - Joyfulness
Target Words - Big, Bigger, Happy, Small
Monthly Proverb
Unknown "Every day may not be good, but there's something good in every day."
Did You Know?
"A 3-year-old toddler's brain is twice as active as an adult's brain."- Sean Brotherson, NDSU
Monthly Materials List
Click Here to view the list!
Fingerplay / Poems / Songs
Touch Your Nose
(Activity 25 Month 2)
Touch your nose, touch your chin, That's the way this game begins.
Touch your eyes, Touch your knees; Now pretend you're going to sneeze.
Touch your hair, Touch one ear; Touch your two red lips right here.
Touch your elbows where they bend,
That's the way this touch game ends.