Reviewing Colors
Learning colors by going on a "Color Hunt"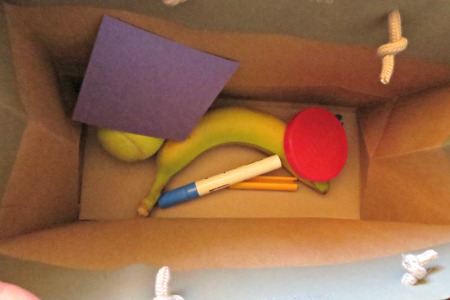 Instructions
Give a child a bag and ask him to find 4 red objects in the home and place in the bag
Next, have the child find and add 4 yellow objects to the bag
Finally, the child adds 4 blue objects to the bag
The child will return the bag to you
Remove each object one at a time from the bag and let the child tell you the color
Together, return each object to correct spot in the home
*Objects can be anything! (clothing, stuffed animals, notebooks, candies, markers/crayons, napkins, lids, washcloths, toys, etc.)
Simplify
An adult can secretly prepare for this activity by placing red, yellow, blue objects within sight of the child.
Extend
Before returning the objects to their original spot, place all of the objects back into the bag and have the child remove each object and count how many objects are in the bag (12 objects).
QUESTIONS FOR CHILD
Can you describe to me your favorite outfit that you like to wear?
Have you ever had a dream that really scared you? What was it about?
Materials
4 yellow objects
4 red objects
4 blue objects
Curriculum Plan Resources
Skills Focus
Shape - Triangle
Color - Red, Yellow, Blue
Number - Four, 4
Alphabet Letters - D, M
Senses - Taste
Character Trait - Love
Target Words - Day, Later, Night, Now
Monthly Proverb
Arabic-Every day of your life is a page of your history
Did You Know?
"Investing in high quality pre-kindergarten can make every family in America safer from crime and violence. Law enforcement leaders know that to win the war on crime, we need to be as willing to guarantee our kids space in a pre-kindergarten program as we are to guarantee a criminal a prison cell," said Sanford Newman, president of Fight Crime
Monthly Materials List
Click Here to view the list!
Fingerplay / Poems / Songs
The Itsy Bitsy Spider
(Activity 21 Month 4)
The itsy bitsy spider climbed up the waterspout
Down came the rain and washed the spider out
Out came the sun and dried up all the rain
And the itsy bitsy spider climbed up the spout again.
Do You Love Me? to "Brother John" tune
(Activity 26 Month 4)
Do you love me? Do you love me?
Yes, I do. Yes, I do.
Give me hugs and kisses. Give me hugs and kisses.
I love you. (two kiss sounds) I love you. (two kiss sounds)