Make a Round (Circle) Meal
Making a circle sandwich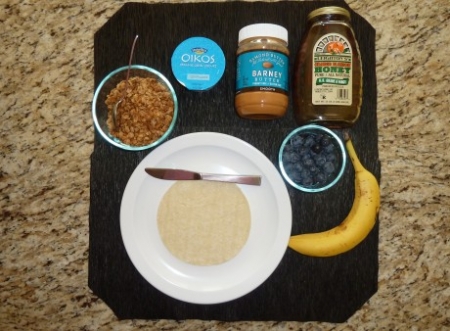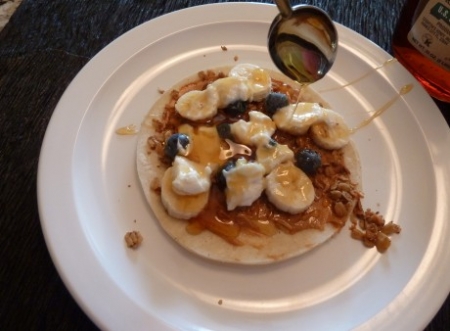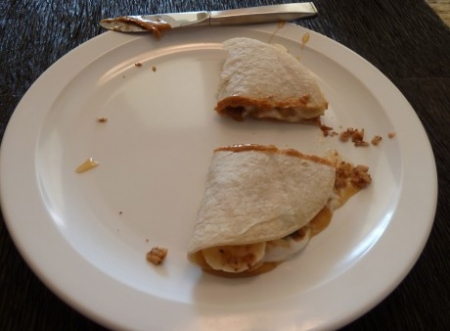 Instructions
Together spread a round tortilla with nut butter (peanut, almond, etc.)
Warm in microwave for 15 seconds or in the oven for 5 minutes at 350 degrees
Sprinkle tortilla with granola
Add round blueberries and round banana slices
Spread with vanilla yogurt and drizzle honey over the top
Fold in half and cut into 2 halves
Place on a round plate
Enjoy for breakfast, lunch, dinner or snack
Simplify
Have the child watch an adult making the sandwich. An adult should be talking and sharing each of the steps needed to make the sandwich.
Extend
Encourage the child to slice the banana into small sections with a plastic knife before adding to his sandwich
QUESTIONS FOR CHILD
Why is this sandwich considered healthy or good for you to eat?
What time of the day is your favorite time for eating and why?
Materials
round tortilla
peanut butter (ALERT...NUT ALLERY...almond butter, walnut butter, etc.)
granola
blueberries
banana
yogurt
honey (ALERT...children under 1 year of age should not have honey)
plastic knife for cutting and spreading
Curriculum Plan Resources
Skills Focus
Shape - Circle
Color - Blue
Number - Two, 2
Alphabet Letters - B, F
Senses - Hearing
Character Trait - Joyfulness
Target Words - Big, Bigger, Happy, Small
Monthly Proverb
Unknown "Every day may not be good, but there's something good in every day."
Did You Know?
"A 3-year-old toddler's brain is twice as active as an adult's brain."- Sean Brotherson, NDSU
Monthly Materials List
Click Here to view the list!
Fingerplay / Poems / Songs
Touch Your Nose
(Activity 25 Month 2)
Touch your nose, touch your chin, That's the way this game begins.
Touch your eyes, Touch your knees; Now pretend you're going to sneeze.
Touch your hair, Touch one ear; Touch your two red lips right here.
Touch your elbows where they bend,
That's the way this touch game ends.