Respect
Reading "The Monster At The End of This Book" and give positive reinforcement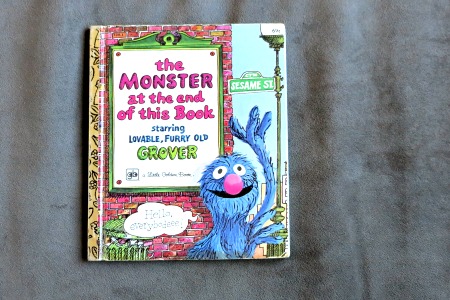 Instructions
Give a child positive reinforcement when playing nicely or behaving well. Positive reinforcement or praise is given when deserved.
Give a realistic compliment and explain why the compliment is being given. For example, "The way you picked up your toys the first time I asked, makes me very happy and now we have time to do something extra."
Try for a compliment each day
Read the book "The Monster at the End of this Book" by Jon Stone
Simplify
Have child actually do the turning of the pages in the book "The Monster at the End of this Book".
Extend
Chat about what a child thinks are monsters and what they look like. Ask what types of objects or people make a child happy. Ask what types of objects or people make a child scared or afraid. Talk about what things are real (thunder, sirens, etc.) and things that aren't (monsters, fairies, etc.)
Curriculum Plan Resources
Skills Focus
Shape - Star
Color - Violet
Number - Review
Alphabet Letters - S, V
Senses - Touch
Character Trait - Respect
Target Words - Hot, Soft, Above, Below
Monthly Proverb
Scottish-He that is wise can make a friend of a foe
Did You Know?
"The foundations of social competence that are developed in the first five years are linked to emotional well-being and affect a child's later ability to functionally adapt in school and to form successful relationships throughout life." National Scientific Council on the Developing Child
Monthly Materials List
Click Here to view the list!
Fingerplay / Poems / Songs
Nursery Rhyme
(Activity 26 Month 7)
Star light, Star bright
Star light, Star bright
I wish I may, I wish I might
Have the wish I wish tonight