Respect
Knock first! Teaching respect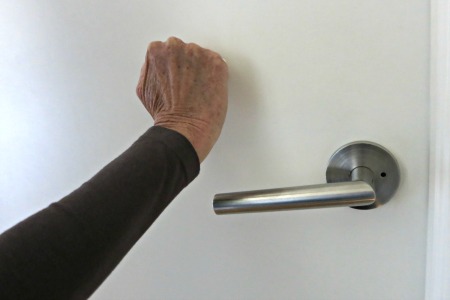 Instructions
Preschoolers often mimic behavior. To teach respect an adult must show respect as preschoolers are watching
A simple idea is to practice knocking on closed doors and asking to enter. This shows respect and is easy for adults to model when they want to enter a child's bedroom, bathroom, etc.
Teach child to knock on closed doors before entering and to ask for permission to enter. For example, child knocks on closed bedroom door and asks "Mom, may I please come in?"
Simplify
When you are with a child, remember to be kind and respectful of them in all situations. Listen to them while looking at them eye to eye or asking them for their opinion or suggestions are other easy ways to show and teach respect.
Curriculum Plan Resources
Skills Focus
Shape - Star
Color - Violet
Number - Review
Alphabet Letters - S, V
Senses - Touch
Character Trait - Respect
Target Words - Hot, Soft, Above, Below
Monthly Proverb
Scottish-He that is wise can make a friend of a foe
Did You Know?
"The foundations of social competence that are developed in the first five years are linked to emotional well-being and affect a child's later ability to functionally adapt in school and to form successful relationships throughout life." National Scientific Council on the Developing Child
Books to Read
Music Playlist
Monthly Materials List
Click Here to view the list!
Fingerplay / Poems / Songs
Nursery Rhyme
(Activity 26 Month 7)
Star light, Star bright
Star light, Star bright
I wish I may, I wish I might
Have the wish I wish tonight