Reinforcing #3
Using coins for counting skills and pattern making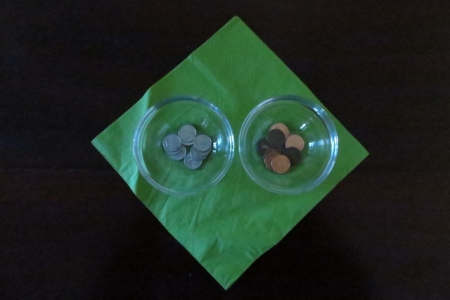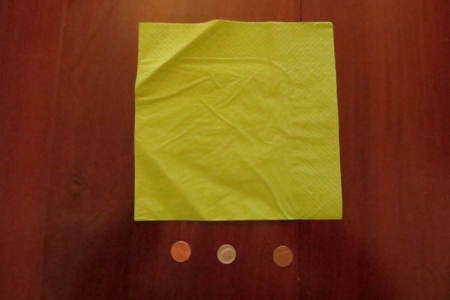 Instructions
Gather 10 each of two different coins (we used pennies and dimes)
Show a child a penny and a dime and let child explain how he can remember the look and names of the two coins
Empty the container of the table and let the child find and count out three pennies
Let child find and count out three dimes
Have an adult make a pattern of three coins: penny - dime - penny
Let child copy the pattern of the three coins by selecting the proper three coins
The adult makes a different pattern of three coins: dime - dime - penny
Let the child find the coins to copy this pattern of three coins
Continue by making different patterns for a child to copy
Simplify
Some children need help in distinguishing the coins. Use pennies and quarters for this activity and see if this helps a child. The penny and quarter are different colors and sizes which can help the child in seeing the difference.
Extend
Cover up the pattern of the three coins with a napkin and let the child make a pattern by memory. Next, make a pattern using four or more coins. Let the child observe and then cover up the coins for the child to make the pattern by memory.
QUESTIONS FOR CHILD
Why do people need money?
For your birthday, would you rather receive money or a gift?
Materials
10 each of two different coins (pennies, nickels, dimes, quarters)
napkin/towel
Curriculum Plan Resources
Skills Focus
Shape - Circle, Square
Color - Red
Number - Three, 3
Alphabet Letters - C, R
Senses - Smell
Character Trait - Manners
Target Words - On, Top, High, Low
Monthly Proverb
Golden Rule - Do unto others as you would have them do to you
Did You Know?
"The human brain is 90% developed by age 5." Center on the Developing Child at Harvard University
Books to Read
Music Playlist
Monthly Materials List
Click Here to view the list!
Fingerplay / Poems / Songs
Way Up High In An Apple Tree
(Activity 26 Month 3)
Way up high in the apple tree
Two little apples smiled at me
I shook that tree as hard as I could
Down came the apples
Mmmmmm they were good.
Peter (child's name) Uses One Hammer
(Activity 21 Month 3)
Peter (use child's name) hammers with one hammer one hammer one hammer
Peter hammers with one hammer all day long (tap fist on the floor)
Pater hammers with two hammers, two hammers two hammers (tap other fist too) Peter hammers with two hammers all day long.
Peter hammers with three hammers, three hammers three hammers (add one foot) Peter hammers with three hammers all day long.
Peter hammers with four hammers four hammers four hammers (tap other foot too along with fists) Peter hammers with four hammers all day long.
Peter hammers with five hammers five hammers five hammers (use your head) Peter hammers with five hammers And then he goes to sleep!