Joyfulness
Read "The Grouchy Ladybug" and practice verbalization skills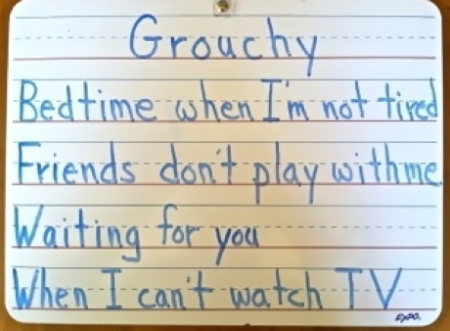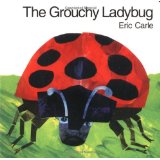 Instructions
Learning to be "joyful" can be characterized by not being "grouchy"
Read story "The Grouchy Ladybug" by Eric Carle
Ask child to share things that makes him "grouchy"
Make a list of the "grouchy" items (Showing a child how you use writing skills is important to their wanting to learn to write. When we say "make a list" please use paper/pencil or chalk/dry erase board and let child watch you write)
Discuss what you can do together with a child so those grouchy items can turn into "joyful" happenings
For example, the statement "When I go to bed I get grouchy because I don't like to brush my teeth" can be discussed and different solutions presented. Perhaps, giving a timer for a chld to set for how long to brush, purchasing a different toothbrush or flavor of toothpaste, or learning about preventing cavities can make brushing teeth a "joyful" bedtime routine.
Simplify
Share something that makes you grouchy first and then ask child to tell you something that makes them grouchy.
Extend
Chat about how you can change a feeling of "grouchy" to feeling "joyful". For example, I was feeling "grouchy" because I had to pick up my toys. Mom suggested we put on some music and set a timer to see how long it would take to pick up the toys. Now I feel "joyful".
Curriculum Plan Resources
Skills Focus
Shape - Circle
Color - Blue
Number - Two, 2
Alphabet Letters - B, F
Senses - Hearing
Character Trait - Joyfulness
Target Words - Big, Bigger, Happy, Small
Monthly Proverb
Unknown "Every day may not be good, but there's something good in every day."
Did You Know?
"A 3-year-old toddler's brain is twice as active as an adult's brain."- Sean Brotherson, NDSU
Monthly Materials List
Click Here to view the list!
Fingerplay / Poems / Songs
Touch Your Nose
(Activity 25 Month 2)
Touch your nose, touch your chin, That's the way this game begins.
Touch your eyes, Touch your knees; Now pretend you're going to sneeze.
Touch your hair, Touch one ear; Touch your two red lips right here.
Touch your elbows where they bend,
That's the way this touch game ends.