Review
Read "Big Red Barn" and select clothing from closet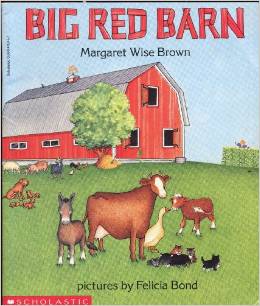 Instructions
Read book "Big Red Barn" by Margaret Wise Brown
This activity is a fun way to review the colors - Red, Violet, Green, Orange, Blue and Yellow
Ask child to fill a bag with colored pieces of any type clothing (belt, hat, shirt, etc.)
The child needs to find six pieces of clothing. An item that is: Red, Violet, Green, Orange, Blue and Yellow
For example, ask for a red item and child could choose any one red item whether it is a pant, hat, shirt, etc. Next, ask child to find a violet item and again any type of clothing can be used for the one violet item, etc.
Keep the bag of clothing to use for Activity 9 in Month 8
Extend
EXTEND
Instead of placing the six objects in one bag, label six separate bags with each of the colors: Red, Violet, Green, Orange, Blue and Yellow. Have child put a piece of clothing in the correct color bag. This child is able to begin to read or recognize the written color names.
Materials
Book "Big Red Barn"
large bag/laundry bag/pillow case
clothing
Curriculum Plan Resources
Skills Focus
Shape - Heart
Color - Review
Number - Six, 6
Alphabet Letters - H, P
Senses - Hearing
Character Trait - Honesty
Target Words - Good-by, Many, Match, Why
Monthly Proverb
If you can't say something nice, don't say anything at all.
Did You Know?
"Children with below average language skills can make rapid improvements if their parents take simple steps to change the way they interact with them." University of Sydney
Books to Read
Music Playlist
Monthly Materials List
Click Here to view the list!
Fingerplay / Poems / Songs
Up Down Turn Around
(Activity 14 Month 8)
Up, down
Turn around.
Touch the sky,
And touch the ground.
Jiggle tummy,
Blink your eyes,
Blow a kiss,
And say "good-bye "
I Need To Be Honest
(Activity 13 Month 8)
I need to be honest
My mom and dad say
And telling the truth
Is just one way!
Why be honest
I ask mom and dad.
You will feel your best
When the truth is always said.