Circle
Using tracing and matching skills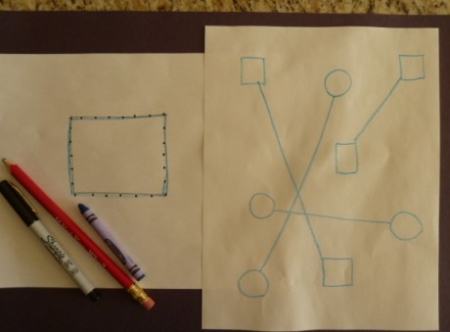 Instructions
On a sheet of paper, make a square shape with dots
Ask the child to trace over dots with finger twice and pencil twice
Finally, trace with blue crayon 2 times making a square
Draw four blue circles and four blue squares randomly on a sheet of paper
Encourage the child to draw lines with fingers between circles and squares to match the shapes
When the child has correctly found matching shapes, draw the matching lines with blue crayon
Simplify
Have the child place hand on top of the adult's hand and together trace the square with finger, pencil, and crayon.
Extend
Ask the child to draw by himself 2 circles and 2 squares anywhere on a sheet of paper. Ask the child to draw a line to the shapes that match
QUESTIONS FOR CHILD
Can you name something that is in the shape of a square?
Do you think any of our neighbors are scary?
How many sides does a square need?
Curriculum Plan Resources
Skills Focus
Shape - Circle
Color - Blue
Number - Two, 2
Alphabet Letters - B, F
Senses - Hearing
Character Trait - Joyfulness
Target Words - Big, Bigger, Happy, Small
Monthly Proverb
Unknown "Every day may not be good, but there's something good in every day."
Did You Know?
"A 3-year-old toddler's brain is twice as active as an adult's brain."- Sean Brotherson, NDSU
Monthly Materials List
Click Here to view the list!
Fingerplay / Poems / Songs
Touch Your Nose
(Activity 25 Month 2)
Touch your nose, touch your chin, That's the way this game begins.
Touch your eyes, Touch your knees; Now pretend you're going to sneeze.
Touch your hair, Touch one ear; Touch your two red lips right here.
Touch your elbows where they bend,
That's the way this touch game ends.