Manners
Reading book "Goldilocks and the Three Bears" and emphasizing verbal manners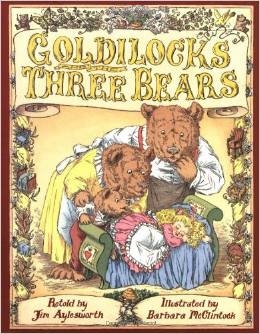 Instructions
Read the book "Goldilocks and the Three Bears" by Jim Aylesworth or Read/Listen here to "Goldilocks and the Three Bears" by Jan Brett
Chat about Goldilock's manners
For example, Did she have permission to enter the bear's home?; Was it okay to eat their food without asking?; Did she apologize for breaking the chair?
Teach the child to communicate verbally (no pointing) when they would like something on the table. For example, "Please, pass me the fruit."
Practice passing food to the right (counterclockwise) at the table. At mealtime have a dish to pass for a child to practice - using a plastic or wooden serving bowl is best
(Manners also in Activity 8 for Month 3)
Simplify
Encourage child to tell you what are good table manners.
Extend
After reading "Goldilocks and the Three Bears" or Read/Listen here, ask the child what was the first thing Goldilocks did after entering the house. Ask what she did next and what was the last thing that happened in the story.
QUESTIONS FOR CHILD
Why is it not polite to enter a home without an invitation?
How do you know this book is a pretend story or fairy tale?
If your stuffed animals could talk, what would they say?
Curriculum Plan Resources
Skills Focus
Shape - Circle, Square
Color - Red
Number - Three, 3
Alphabet Letters - C, R
Senses - Smell
Character Trait - Manners
Target Words - On, Top, High, Low
Monthly Proverb
Golden Rule - Do unto others as you would have them do to you
Did You Know?
"The human brain is 90% developed by age 5." Center on the Developing Child at Harvard University
Books to Read
Music Playlist
Monthly Materials List
Click Here to view the list!
Fingerplay / Poems / Songs
Way Up High In An Apple Tree
(Activity 26 Month 3)
Way up high in the apple tree
Two little apples smiled at me
I shook that tree as hard as I could
Down came the apples
Mmmmmm they were good.
Peter (child's name) Uses One Hammer
(Activity 21 Month 3)
Peter (use child's name) hammers with one hammer one hammer one hammer
Peter hammers with one hammer all day long (tap fist on the floor)
Pater hammers with two hammers, two hammers two hammers (tap other fist too) Peter hammers with two hammers all day long.
Peter hammers with three hammers, three hammers three hammers (add one foot) Peter hammers with three hammers all day long.
Peter hammers with four hammers four hammers four hammers (tap other foot too along with fists) Peter hammers with four hammers all day long.
Peter hammers with five hammers five hammers five hammers (use your head) Peter hammers with five hammers And then he goes to sleep!