Introducing #4
Making the mark of "X" and using a calendar to learn numeral 4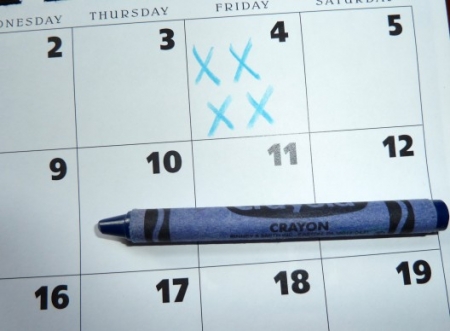 Instructions
Look at the monthly calendar together and review any special dates - birthday or events - to put on the calendar for this month
On the calendar, let the child make 4 X 's where the number 4 is for each month. Do this for all 12 months
For each month ask them to select one of the colored crayons red, yellow, or blue to make the X 's
Encourage the child to count aloud 1,2,3,4 when making the appropriate X's
Simplify
Making an X can be hard for a young child. Let an adult make the first diagonal line and the child make the second line to cross the first line.
Extend
Worksheets often ask for a child to make an X in a box to give the correct answer. Draw several squares and have a child put an X inside each square. Encourage a child to become comfortable in making X's
QUESTIONS FOR CHILD
Can you tell me the month of your birthday? How do you like to celebrate your birthday?
How old would you like to be right now and why?
Curriculum Plan Resources
Skills Focus
Shape - Triangle
Color - Red, Yellow, Blue
Number - Four, 4
Alphabet Letters - D, M
Senses - Taste
Character Trait - Love
Target Words - Day, Later, Night, Now
Monthly Proverb
Arabic-Every day of your life is a page of your history
Did You Know?
"Investing in high quality pre-kindergarten can make every family in America safer from crime and violence. Law enforcement leaders know that to win the war on crime, we need to be as willing to guarantee our kids space in a pre-kindergarten program as we are to guarantee a criminal a prison cell," said Sanford Newman, president of Fight Crime
Monthly Materials List
Click Here to view the list!
Fingerplay / Poems / Songs
The Itsy Bitsy Spider
(Activity 21 Month 4)
The itsy bitsy spider climbed up the waterspout
Down came the rain and washed the spider out
Out came the sun and dried up all the rain
And the itsy bitsy spider climbed up the spout again.
Do You Love Me? to "Brother John" tune
(Activity 26 Month 4)
Do you love me? Do you love me?
Yes, I do. Yes, I do.
Give me hugs and kisses. Give me hugs and kisses.
I love you. (two kiss sounds) I love you. (two kiss sounds)