Sponge Painting
Creative painting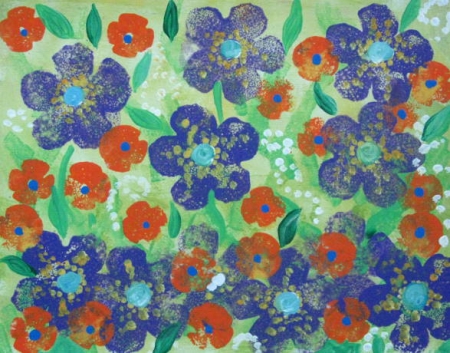 Instructions
Ask the child to join you in this activity of painting (emphasize letter "P")
Gather small pieces of sponges or foam and clip clothespins to the foam to use as handles
Place a collection of paint colors on a covered table or at an easel
Have the child use a smock or old shirt that buttons in back
Let the child clip the clothespins onto the sponges, dip into the paint and paint
Painting lets a child be creative and in control
Encourage the child to create their own artwork giving ideas of what to paint if needed
Simplify
Have available only one or two colors for a young child.
Extend
Using a variety of sizes of paintbrushes aids in developing motor skills after using the sponges.
QUESTIONS FOR CHILD
What do you like about painting? Tell me about your painting.
What discipline did I give you that you thought was really unfair? Why?
Materials
sponge/foam pieces
clothespins
paint- color choice is up to you
paint cups/tubs
tablecloth/cover
art smock
painting paper
Curriculum Plan Resources
Skills Focus
Shape - Heart
Color - Review
Number - Six, 6
Alphabet Letters - H, P
Senses - Hearing
Character Trait - Honesty
Target Words - Good-by, Many, Match, Why
Monthly Proverb
If you can't say something nice, don't say anything at all.
Did You Know?
"Children with below average language skills can make rapid improvements if their parents take simple steps to change the way they interact with them." University of Sydney
Books to Read
Music Playlist
Monthly Materials List
Click Here to view the list!
Fingerplay / Poems / Songs
Up Down Turn Around
(Activity 14 Month 8)
Up, down
Turn around.
Touch the sky,
And touch the ground.
Wiggle fingers
Wiggle toes
Wiggle shoulders
And say "hello"
Up, down
Turn around
Touch the sky,
And touch the ground.
Pat your belly
Blink your eyes,
Blow a kiss,
And say "good-bye "
I Need To Be Honest
(Activity 13 Month 8)
I need to be honest
My mom and dad say
And telling the truth
Is just one way!
Why be honest
I ask mom and dad.
You will feel your best
When the truth is always said.