Make Every Interaction with Your Child Count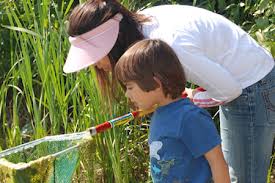 Whether you are a teacher, day care/child-care provider, babysitter, nanny, grandparent, aunt, uncle or parent, each and every one of your interactions with your preschooler is a critical opportunity for positive development. The words, sentences, phrases and questions you choose to use with your preschooler have a much larger impact on their development than you might think.
Why are powerful interactions with our preschoolers so important? Powerful interactions encourage children's learning to move forward in small successful steps. Asking questions and using interesting language will help engage the child, extend their thinking and move them ahead on their learning adventure. Without powerful interactions the child may have a difficult time creating a deeper relationship with the adult or teacher, inhibiting educational growth.
Now you're probably wondering, what is a powerful interaction? How can I make my interactions with my preschooler more powerful? Good news- it's easy!! There are simple ways to incorporate powerful interaction techniques into your everyday life and language. Using the child's name, talking with the child about their interests (trucks, art, princesses), giving them specific praise, showing them care and respect and acknowledging and accepting the child's feelings are some simple examples of powerful interactions, and are clear ways to build and deepen your relationship with your child.
To encourage extending their thinking and learning, try asking open-ended questions, use interested and varied vocabulary and repeat and extend what it is a child is saying. Visit http://bit.ly/b4bgqo to read the article "Powerful Interactions Begin with You" where you can learn more about the importance of powerful interactions and different techniques that encourage powerful interactions between adult and child.
Remember, we at If Not You, Who? are always available on our website www.ifnotyouwho.org to answer questions and support your adventure in preparing your children for kindergarten and life!