Is Your Family Moving?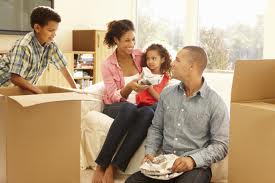 Spring is around the corner and so is "moving season". Whether you're thinking of moving across town, the country or the world, moving your belongings and family is a major life change that greatly affects children. Depending on your child's age, their understanding of what moving means as well as how they handle the stress and changes associated with moving, will vary.
The majority of children thrive in familiarity and routine. This helps them feel safe and secure because they know what to expect. Moving to a new house, city or country disconnects the child from routine and familiarity. If your family has a choice as to when to move, we encourage you to seriously consider when to actually have the move take place. If a major life change has just occurred, such as a death or divorce, think about postponing the move, as another large change may negatively disrupt your child's life. Also, be careful of other transitions your child may be going through. Potty training or moving to a big kids bed, may be best dealt with well before, or after the move takes place. While some moves aren't necessarily by choice of the adults (finances, job transfer etc…), try to keep a positive attitude while discussing the move with children. Your attitude will reflect the attitude your children will have towards the move. Most likely, if you're excited, they will be excited. If you're scared, they will be scared.
Preschoolers may have a difficult time understanding what exactly "moving" means and entails. Most likely they will act excited because of all the hustle and bustle in the house, but be aware that while they may seem excited, they also might not totally understand what is happening, which may cause some stress and fear. At least one month before the move, talk with your child about the move and explain as much as possible. Showing them where they are moving on a map and preparing them to get on an airplane or long car ride. Also letting them know if they will no longer live as close to certain friends or family, if moving a longer distance away. These are all important topics to discuss. The more prepared they are for the move, the better the transition to the new home will be for them. Lastly, be sure to ease their fears and answer all their questions.
Below are some ideas you may want to try with your preschooler to help them adjust to the idea and concept of moving
Visit new location- if a local move, take your child to visit their new home, school, local park, ice cream store or other locations you're likely to spend time at as a family. This helps children become familiar with the new area before they have to be totally immersed in a new environment.

Teach them about new location- if it is a long distance move, have friends or even your real estate agent take pictures of the new house, school, park etc.. and send them to you. Explain these pictures to your children at least a few weeks before the move, so they can start becoming familiar with the pictures and idea of what moving means.

Act out the move- preschoolers might get scared as they watch you pack up their belongings. They will probably have a hard time understanding that this box, full of their belongings, will be waiting for them at their new house. Try using toy trucks and toys and play out how the move will happen.

Give them responsibility- give them a specific task. Putting all their stuffed animals into a box, and then decorating the outside of the box with crayons or stickers will help them be part of the process and understand they are part of this move with the family- they or their toys, are not being left behind.

Set up their new room as close as possible to their old room. Some familiarity may help the adjustment go as smoothly as possible

Hire a Babysitter- on moving day, hire a babysitter and have them watch your child at a different location. This allows for you as a parent to focus on the move, and your child to receive the attention they need.
If you have any questions, we are here at http://www.ifnotyouwho.org and thanks for stopping by!