Touch
Discovering sticky items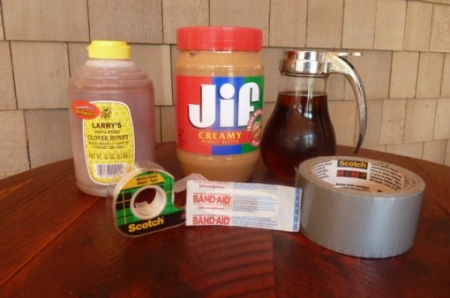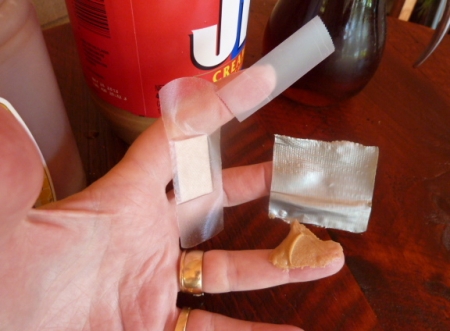 Instructions
This activity challenges a child to think before using their sense of touch
Ask the child to name a substance that is sticky or gooey that you can touch
For example, if they say honey - squirt some honey on their fingers to verify with their sense of touch that it is sticky
Remember to encourage the child to think of an item - tape, syrup, peanut butter, band-aid, glue, etc. before getting the item to touch
Reinforce a sense of touch by asking your child to describe common objects they touch in their everyday life - towel, table, shoes, etc.
Simplify
Hand a child a book and encourage them to touch and share how it feels in their hands. Talk about how the book cover and the pages feel.
Extend
Touch a blindfolded child lightly in the following places and let them identify the body part touched:
forehead, hair, fingers, top of foot, ear, inside of wrist, neck, lips, toes, shoulder, nose, elbow, leg, back of hand, stomach, cheek, knee, palm, back, sole of foot, arm,

Ask the child where they felt the strongest and weakest touches.
Repeat touching the body parts with tickling! Is there a spot that is so ticklish you always laugh?
QUESTIONS FOR CHILD
What is a favorite food you eat that is sticky?
How would you get something sticky off of your hands? How would you get something sticky off of your shoe?
Materials
various sticky items-tape, syrup, peanut butter, band-aid, glue, etc
Curriculum Plan Resources
Skills Focus
Shape - Square
Color - Yellow
Number - One, 1
Alphabet Letter - A, E
Senses - Touch
Character Trait - Caring
Target Words - In, Out, Empty, Full
Monthly Proverb
Swedish - The best place to find a helping hand is at the end of your own arm.
Did You Know?
Children who are not ready for kindergarten often have trouble succeeding in school. Those who do poorly in school are more likely to need to repeat classes, need special education, drop out of school, become teen parents, and get into trouble with the law. As adults, drop-outs have trouble making a living wage, and are at risk of poverty and homelessness

From Plan for the Washington Early Learning System – Draft 12/1/09 (Bill & Melinda Gates Foundation, 2005; Isaacs, 2008).
Monthly Materials List
Click Here to view the list!
Fingerplay / Poems / Songs
Select one poem for child to memorize this month and recite it at bedtime plus one song/fingerplay to learn. Here are two examples:
My NAME Song
(Activity 25 Month 1 - Sung to tune of BINGO)
There was a family had a child
and Carly (insert child's name) was her name.
C - A - R - L - Y C - A - R - L - Y C - A - R - L - Y (spell child's name)
And Carly (insert child's name) was her name
Kind To Others
(Activity 13 Month 1 - Fingerplay)
5 little children
Standing in a row ( hold up 5 fingers)
They are kind to others
Everywhere they go. (walk hand in front of body)
I am one of the children (point to self)
Standing in a row (hold up 5 fingers)
I'll be kind to others (point to self)
Wherever I go. (walk hand in front of body)
(This fingerplay works as a reminder to a child to be kind in any situation- without saying a word. Just walk hand in front of body to silently signal a child to remember to be kind or use actual sign language for the word kind.)